Our annual book suggestions for Christmas
gift-giving are listed below! 
Browse our 10 recommendations and links below.
The Word on Fire Bible – The Gospels   

 
A magnificent gift in terms of the visual: leather cover, gold leaf page edges, ribbon marker, and beautiful artwork throughout. But more important, it's rich and varied commentary from Bishop Barron and Catholic authors across the centuries make this edition of the four gospels a gift for the soul.
$59.95 (leather edition)
Find this book at Word on Fire. 
The Reed of God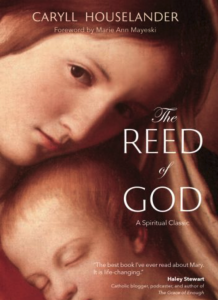 By Caryll Houselander
First published in 1944 and now a spiritual classic, The Reed of God contains meditations on the humanity of Mary, Mother of God. British Catholic writer Caryll Houselander lovingly explores Mary's intimately human side, depicting Our Lady as a musical instrument—a reed—who makes herself an instrument for the divine plan. Confronting the static, surreal "Madonna of the Christmas card," this book provides an intuitive, warmly human, and approachable image of Mary.
$13.95
Find this book at Ave Maria Press. 
5 Things with Father Bill
Hope, Humor, and Help for the Soul
By Fr. William Byrne
YouTube personality Fr. Bill Byrne wrote a column titled "5 Things" for his local church newspaper featuring five life hacks, prayer starters, or spiritual meditations to help readers grow closer to God and appreciate the small—but vital—things in life. Now, in a practical and engaging guide to embracing happiness, 5 Things with Father Bill features fifty topics to enhance ordinary days and holidays with insights, reflections, and encouragement. Editor's note: Fr. Byrne is now Bishop-Elect for the Diocese of Springfield, Massachusetts.
$14.99
Find this book at Loyola Press. 
Let This Be the Time
Spiritual Essentials for Life's Second Act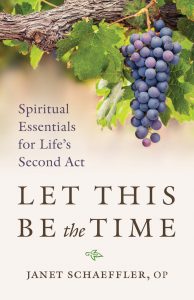 By Janet Schaeffler, OP
The second half of life offers many opportunities for growth, discovery, and new meanings. Janet Schaeffler helps you explore them with wisdom, prayer and a deep sense of appreciation for who you are and who you are still becoming. With insights from experts—those on the journey and those who study it—she describes twelve needs of people in their maturing years, always mindful of each individual's unique needs and realities.
$18.95
Find this book at Twenty-third Publications. 
365 Devotions for Seniors
Daily Moments with God for Living Life to the Fullest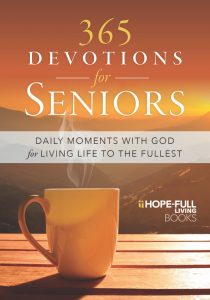 Mark Zimmerman, editor
Designed especially for older adults and written by older adults, these large print devotions for all 365 days of the year are meant to encourage, inspire and engage those living out their Christian faith in their later years. With only month and day noted at the top of each devotional page, this book can be used in any year and can be started at any point in any given year. Each devotion begins with a reading from Scripture related to the theme for the day, followed by a reflection. A prayer concludes the reflection. A suggested activity follows, with additional Bible passages listed for further reading.
$14.95
Find this book at Creative Communications for the Parish. 
My Little Catholic Encyclopedia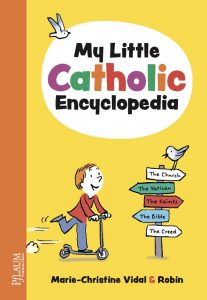 By Marie-Christine Vidal & Robin
Answers to children's questions about God, the Bible, the Church and more! With easy-to-read entries, as well as prayers, ideas for living the faith and more, My Little Catholic Encyclopedia is a must-have for Catholic families.
$14.95
Find this book at Pflaum Publishing. 
Because of Our Fathers
Tyler Rowley, editor
Did your Dad's words or example help you become a firm Catholic believer? You're not alone. These accounts of 23 well-known Catholic leaders will surely resonate and make a great gift to your own father.
$16.95
Find this book at Ignatius Press. 
Saint John-Paul II: A Celebration in Words and Images
Preface by Pope Francis
Celebrating one hundred years, this book beautifully traces the pontificate of St. John Paul II through photos and words from his petrine magisterium. It is addressed to all the faithful on the occasion of the centenary of his birth.
"It is right to remember this great holy witness of the faith that God has given to his Church and to humanity. He was a great witness of mercy, and throughout his pontificate he called us to this characteristic of God. It is nice to remember him in a simple way: with images, so expressive and capable of transmitting to us what John Paul II was. I hope that this book, with its short texts and prayers drawn from his homilies, his documents, and his magisterium, will reach the hands of many, and above all young people. Let us remember his faith, and may his life be an example for us to live our testimony today."
—Pope Francis, from the preface
$9.95
Find this book at Paulist Press. 
All Good and Holy People
Prayers for Grieving and Remembering Loved Ones
No matter how long it has been since their passing, our beloved dead always hold a special place in our hearts. Remembering them in prayer can lift our spirits and strengthen our hope that we will see them again. This pocket-sized book of prayers will help you express your grief, find comfort in the communion of saints, feel God's closeness, and hold firm to God's loving promise of eternal life.
$8.95
Find this book at Twenty-third Publications.
The Lighthouse  
By Michael O'Brien
Unwanted at birth, rejected throughout his early life, Ethan carves out a solitary but purposeful life as a lighthouse keeper. As he matures he struggles with his connection to other people and to transcendent realities he barely understands. A simple, profound story in a starkly beautiful setting in Nova Scotia. [Fiction] 
$19.95
Find this book at Ignatius Press.